Rashia Luzel

Personal Information
Age
22
Gender
Female
Race
Beast
Main Job
Priest
Affiliation
Church
Skill
Stats
Level
151
HP
2488
MP
3023
STR
147
VIT
130
DEX
174
AGI
122
INT
188
LUC
68
Other Information
Residence
Church inside Bayreuth
Media Information
Light Novel
Volume 2
Appearance
Edit
Personality
Edit
Equipment
Edit
Head: None
Torso: Second Grade Priest Clothes
Arm: Bracelet of the Barrier
- Damage Block [Strong]

Feet: Leather Boots
Accesories: Prayer of Saint
- Magic Damage Rise [Medium]

Background
Edit
Chronology
Edit
Volume 2
Edit
She is Wilhelm Avis's childhood friend and a convent's sister.
She is a Beastman with wings like ears.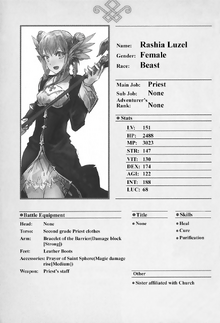 Ad blocker interference detected!
Wikia is a free-to-use site that makes money from advertising. We have a modified experience for viewers using ad blockers

Wikia is not accessible if you've made further modifications. Remove the custom ad blocker rule(s) and the page will load as expected.