Shin's girlfriend in the game. Her HP dropped to zero during the death game.
Marino

Personal Information
Age
??
Gender
Female
Race
Human
Main Job
Tamer
Sub Job
Seamstress
Title

Art of Whip Novice
Taijutsu Novice
Sewing Novice
Engagement Linker
Lesser Magic Contractor

Adventure Rank
E
Skill

Analyze
Ki Manipulation
Quick Step
Whip Blow
Contract Beast Summon

Stats
Level
147
HP
2109
MP
4111
STR
209
VIT
163
DEX
301
AGI
234
INT
289
LUC
52
Other Information
Media Information
Light Novel
Volume 5 Side Story 1
Manga
TBD
Appearance
Edit
Female human with two ponytails
Personality
Edit
Quick to get into a lovers quarrel with Shin
Equipment
Edit
Background
Edit
She knows Cashmere in real life
Chronology
Edit
She has been mentioned since Volume 1 but did not appear until the side story in Volume 5.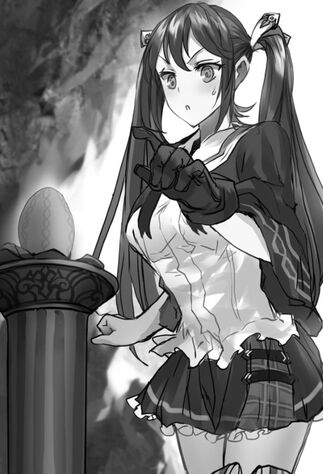 Ad blocker interference detected!
Wikia is a free-to-use site that makes money from advertising. We have a modified experience for viewers using ad blockers

Wikia is not accessible if you've made further modifications. Remove the custom ad blocker rule(s) and the page will load as expected.